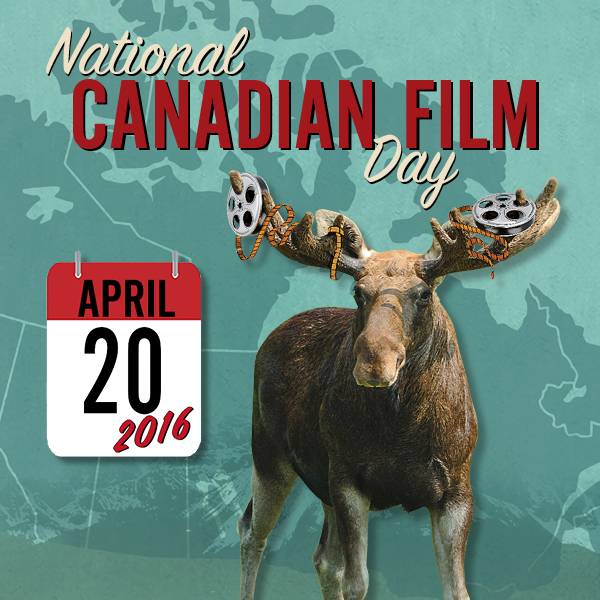 PRESS RELEASE
NATIONAL CANADIAN FILM DAY – APRIL 20th, 2016
BFF Screening of "Being Canadian"
April 12, 2016
BARRIE, ON – On April 20th, at 7 pm, the Barrie Film Festival will screen BEING CANADIAN at the Barrie Uptown Theatre, participating in a one-day, coast-to-coast celebration of Canadian film.
The Barrie Film Festival will take part in National Canadian Film Day (NFCD) by joining theatre owners, major broadcasters, film distributors, film festivals, libraries, retailers and online partners, who will be holding over 300 Canadian film screenings, events, panel discussions, and conversations across the country. On April 20, BEING CANADIAN audience members will have a chance to win fun NCFD swag!
NCFD, an initiative of REEL CANADA, was created as a way to celebrate this great nation, embrace Canadian cinema, and have some FUN. REEL CANADA is a non-profit organization that celebrates and promotes the power and diversity of Canadian film.  "Canadian films are the stories we tell about ourselves – they open the door to so many conversations about place, nation, identity, and what it means to be Canadian." – Reel Canada
NCFD is a day to sit back in your seat, take off your toque, and have some FUN! Presented with the generous support of Cineplex Entertainment and CBC, NCFD is a day for all Canadians to celebrate Canada by watching a great Canadian film.
"Being Canadian is a fun and humorous examination of what it means to be Canadian, even if it's sometimes wrapped up in its own cleverness." – Adam A. Donaldson, We Got This Covered
Film: Being Canadian
Wednesday, April 20, 2016 – 7:00 pm
Uptown Theatre, 55 Dunlop St. W., Barrie
Tickets: $10 (HST included)
Written & Directed by: Robert Cohen
Comedy/Documentary, 90 min. (Canada)
Synopsis: BEING CANADIAN chronicles the real-life quest of Robert Cohen, a proud Canadian, who sets off on a genuine and hilarious cross-Canada journey to prove, once and for all, that his beloved country is more than just lame stereotypes involving maple syrup and Mounties. Imagine "Sherman's March," but wearing a toque. Being Canadian is a fun doc and the subjects interviewed include a who's who of Canadian talent including Rush, Mike Myers, Seth Rogen, Dan Aykroyd, Eugene Levy, William Shatner, Michael J. Fox and Martin Short, to name a few.
Advance tickets are available at the Uptown Theatre box office (in the evenings an hour before their first screening), the MacLaren Art Centre (during gallery hours), or at the door on the night of screening (subject to availability).
The Barrie Film Festival is proud to once again be a participant in bringing great Canadian film to Barrie for National Canadian Film Day. For more information visit barriefilmfestival.ca (details on local screening), reelcanada.ca or canadianfilmday.ca. Find NCFD on Twitter, Facebook and Instagram: @canfilmday using #NCFD #CanFilmDay.