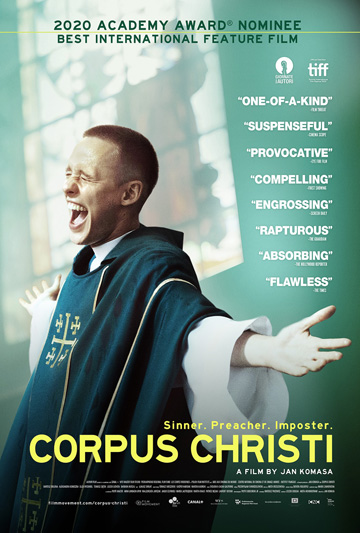 CORPUS CHRISTI (Boze Cialo)
[btnsx id="7064″]
Director: Jan Komasa
Cast: Bartosz Bielenia, Eliza Rycembel, Aleksandra Konieczna, Tomasz Zietek, Leszek Lichota, Lukasz Simlat
Drama, 14A for mature themes, sexually suggestive scenes, violence, coarse language, 116 min., Polish with English subtitles (Poland)
---
Virtual ticket for Corpus Christi is $12.00 for a 3-day (72 hr.) rental. You are able to watch the film on web browsers as well as through the Film Movement Plus apps on Roku, Apple TV, Amazon Fire and on iOS and Android devices. Additional Detailed instructions can be found by clicking here.
---
"A quite interesting and irresistible movie, a sort of cross between Paul Schrader's recent film of spiritual crisis, "First Reformed," and Spielberg's "Catch Me If You Can." – G. Allen Johnson, San Francisco Chronicle
"Directed by Jan Komasa in only his third feature and starring a complexly compelling Bartosz Bielenia, this is a blistering drama, intense, disturbing and inescapably thought-provoking, a film that gets its power from a merging of potent opposites." – Kenneth Turan, Los Angeles Times
"Corpus Christi" is neither a parable nor an allegory, yet image after image seems charged with intent, from the opening shot… to the climax, an apocalyptic welter of fire and blood." – Anthony Lane, New Yorker
After spending years in a Warsaw prison for a violent crime, 20-year-old Daniel is released and sent to a remote village to work as a manual laborer. The job is designed to keep the ex-con busy, but Daniel has a higher calling. Over the course of his incarceration he has found Christ, and aspires to join the clergy – but his criminal record means no seminary will accept him. When Daniel arrives in town, one quick lie allows him to be mistaken for the town's new priest, and he sets about leading his newfound flock. Though he has no training, his passion and charisma inspire the community. At the same time, his unconventional sermons and unpriestly behavior raise suspicions among some of the townsfolk – even more so as he edges towards a dark secret that the community hasn't revealed in the confessional booth.
Awards: 47 Wins, 20 Nominations
Nominee, Best International Feature Film, Academy Awards, USA, 2020
Winner, Best Polish Film, Association of Polish Filmmakers Critics Awards, 2019
Winner, Best Actor (Bielenia) Chicago International Film Festival, 2019
Winner, Critic's Prize, CinEast, 2019
Winner, Best Feature Film, People's Choice Award, Ekran – Toronto Polish Film Festival, CA, 2019
Winner, Best Feature Film/Best Director/Best Feature Film, Minsk International Film Festival, 2019
Winner, Best Film/Best Supporting Actor, Polish Film Awards, 2020
Thank you for your support. Enjoy!