Environment Series – New!
Film tickets: $10  |  Post screening talk: FREE
This year we are introducing a new festival series dedicated to showing environment-focused documentaries. There are three films being shown: The Biggest Little Farm which chronicles the eight-year quest of John and Molly Chester as they trade city living for 200 acres of barren farmland to create a fully sustainable farm in harmony with nature; then Modified where Filmmaker Aube Giroux investigates why genetically modified organisms are not labeled on food products in Canada and the United States, despite being labeled in 64 countries around the world; and to round out the series we have Poisoning Paradise where we discover what's at stake for Hawaii from local activists, scientific experts, and healthcare professionals as they expose the effects of pesticide use and the environmental injustice on a local population.
Post-screening informal talks have been planned for after the screenings at The Local Gastropub – 37 Dunlop Street West. Join in the conversation!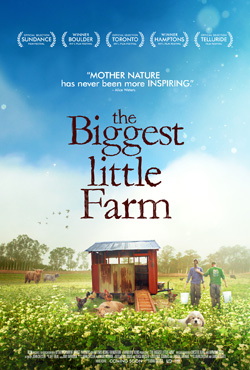 Director: John Chester
Documentary | PG for mild thematic elements | 92 min. | USA
SCREENING:
Saturday, October 19 – 1:00 pm – Followed by a post-screening talk at the Local Gastropub (start approx. 2:40pm)
Monday, October 21 – 4:30 pm
Written and Directed by: Aube Giroux
Documentary | PG | 87 min. | Canada/USA/France
SCREENING: Sunday, October 20 – 1:30 pm – Followed by a post-screening talk at the Local Gastropub (start approx. 3pm)

Directors: Keely Shaye Brosnan and Teresa Tico
With: John Aana, Alita Atay and Paul Achitoff
Documentary, Not Rated, 77 min. | USA
SCREENING: Saturday, October 26 – 1:00 pm – Followed by a post-screening talk at the Local Gastropub (start approx. 2:25pm)