Catering to a broader audience, our Outdoor Screening programme strives to create special and accessible venues in public spaces with family-friendly movie screenings presented free-of-charge to the Barrie community. These screenings are a good fit in collaboration with the Downtown BIA's Lawn Chair Luminata: Waterfront series, which brings together theatre, music, film and art set in various downtown locations.
---
2019 Schedule
Celebrate Barrie

GHOSTBUSTERS
June 1 (rain date Jun 8)
Centennial Beach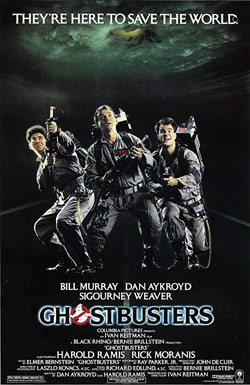 1984 – 105 minutes
Rated PG – for scary scenes, mild language, suggestive content
A trio of university parasychologists lose their research grant and decide to open their own business, "Ghostbusters," and almost at once are summoned to investigate the strange happenings in a Central Park West apartment. What they discover is that all Manhattan is being besieged by other worldly demons.
---
Lawn Chair Luminata
Location: Meridian Place, downtown Barrie (Memorial Square)
Every Wednesday, July through August!
All movies start at dusk, weather permitting. Admission is free.
---
July 3 (rain date Jul 4) – The Kid Who Would Be King
---
July 10 (rain date Jul 11) – Mary Poppins Returns
---
July 17 (rain date Jul 18) – To be announced
---
July 24 (rain date Jul 25) – Home Alone
---
July 31 (rain date Aug 1) – To be announced
---
August 7 (rain date Aug 8) – Finding Nemo
---
August 14 (rain date Aug 15) – Bumblebee
---
August 21 (rain date Aug 22) – How to Train Your Dragon 3 – The Hidden World
The Firefighters will be onsite with their fire trucks!
---
August 28 (rain date Aug 29) – Spider-man: Into the Spider-verse
---
September 4 (rain date Sept 5) – World Tour Paddling Film Festival
---
Presenting Partner:

Also Supported by:
---
Other Outdoor screenings in our Area:
June 29 (Rain date July 2) – Top Gun, Meridian Place
Appropriate for ages 13+ due to violence, sexual content and coarse language. Hosted by the Downtown BIA.
July 12 (Rain date Jul 13) – TBA, Innisfil Beach Park
July 16 – TBA, Park Place Village Courtyard (old Target parking lot)
July 23 – TBA, Park Place Village Courtyard (old Target parking lot)
July 26 (Rain date Jul 27) – TBA, Innisfil Beach Park
August 9 (Rain date Aug 10) – TBA, Innisfil Beach Park
August 13 – TBA, Park Place Village Courtyard
August 23 (Rain date Aug 24) – TBA, The field beside Cookstown Library
---