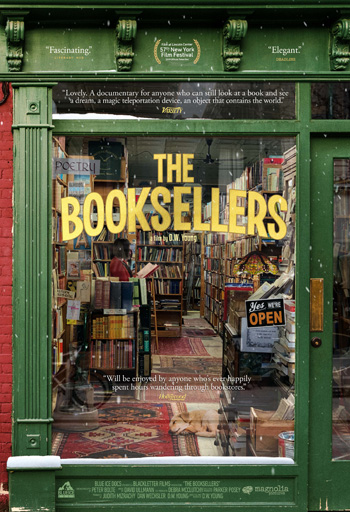 THE BOOKSELLERS – only available until Jan 31!

[btnsx id="7153″]
Director: D.W. Young
With: Fran Lebowitz, Susan Orlean, Gay Talese, Parker Posey, David Bergman, Rebecca Romney, Justin Croft, William Reese, Naomi Hample, Jess Kuronen, Michael Zinman, Henry Wessells, Judith Lowry, Caroline Schimmel, Adam Weinberger, Cara Schlesinger, Glenn Horowitz, Heather O'Donnell, David Bergman, Adina Cohen.
Documentary, PG, 99 min. (USA)
---
Virtual ticket for THE BOOKSELLER is $9.99 CDN. It is for a 5-day rental.
---
"The new documentary 'The Booksellers' looks at the esoteric world of the antiquarian trade, and the passionate, eclectic and endangered characters who make it hum." – THE NEW YORK TIMES
"Captivating. The Booksellers is a rare book of its own sort, a true volume to treasure." – Jason Adams, THE FILM EXPERIENCE
"Critic's choice. Crisp, historically comprehensive and unflinching." – Kurt Brokaw, THE INDEPENDENT
"Lovely and wistful. The Booksellers is a documentary for anyone who can still look at a book and see a dream, a magic teleportation device, an object that contains the world." – Owen Gleiberman, VARIETY
"I finished the film and felt compelled to turn off the screen and pick up a book." – Mark Medley, GLOBE AND MAIL
Antiquarian booksellers are part scholar, part detective and part businessperson, and their personalities and knowledge are as broad as the material they handle. They also play an underappreciated yet essential role in preserving history. THE BOOKSELLERS takes viewers inside their small but fascinating world, populated by an assortment of obsessives, intellects, eccentrics and dreamers.
Executive produced by Parker Posey, the film features interviews with some of the most important dealers in the business, as well as prominent collectors, auctioneers, and writers such as Fran Lebowitz, Susan Orlean, Kevin Young and Gay Talese. Both a loving celebration of book culture and a serious exploration of the future of the book, the film also examines technology's impact on the trade, the importance of books as physical objects, the decline of used and rare bookstores, collecting obsessions, and the relentless hunt for the next great find.
Thank you for your support. Enjoy!