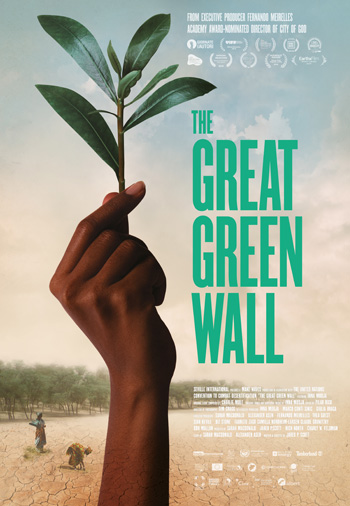 THE GREAT GREEN WALL
Director: Jared P. Scott
Documentary, PG – sexual language, 90 min.
Language: English and French, Bambara, Tigrigna, Hausa with English subtitles (UK)
---
Virtual ticket for THE GREAT GREEN WALL is $9.99 CDN. It is for a 5-day rental.
---
"Shines a light on one of the world's most ambitious but unsung initiatives to tackle climate change" – VARIETY
"Captures the spirit of the Wall" – DEADLINE
Executive Producer Fernando Meirelles (Academy Award-Nominated Director of City of God) and Malian musician Inna Modja take audiences on an epic journey along Africa's Great Green Wall — an ambitious vision to grow an 8,000 km 'wall' of trees stretching across the entire continent to fight back against runaway climate change, severe resource scarcity, increased conflict and mass migration.
A "Buena Vista Social Club" meets "Years of Living Dangerously", frontline characters give voice to a continent at a crossroads — stories Modja echoes on a sublime album. With the support of insightful musical collaborators Didier Awadi, Songhoy Blues, Waje, and Betty G., Modja endeavours to amplify the promise of the Great Green Wall in helping to address the urgency of the real-time threats facing her beleaguered homeland. The resulting journey of hope, hardship and perseverance reveals our shared human condition, reflecting a deeper moral and existential question we all must confront: "Will we take action before it's too late?"
Awards:

Winner, Feature Documentary – Impact Award, EarthX Film Festival, 2020
Winner, Audience Award for Best International Documentary and Best Documentary, São Paulo International Film Festival, 2019
Thank you for your support. Enjoy!