Keesic Douglas: Films Short Like Loin Cloths – 3PM
June 21, 2015 @ 3:00 pm
$10
Keesic Douglas: Films Short Like Loin Cloths

Screening: Sunday, June 21, 2015 – 3:00 pm
Location: Uptown Theatre, 55 Dunlop Street West, Barrie
Short films directed by: Keesic Douglas
Special Presentation Curated by: Aylan Couchie
Tickets: $10
We are honoured to welcome Ojibway director/artist Keesic Douglas to the Uptown Theatre for an installation piece, a curated selection of his short films and a Q & A following the film presentation.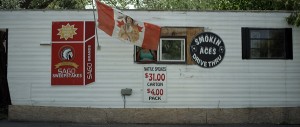 Bear Hunt
2013, 13 minutes, Rated 14A
When a Northern First Nation fears a bear attack, two boys go on a quest to protect themselves. This Film was screened as a part of the 2013 imagineNATIVE Film + Media Arts Festival.

Indian Affairs
2013, 10 minutes, B&W, English
An Aboriginal woman searching for her identity enlists the help of a professional in this homage to film noir detective films. The Maltese Falcon meets Chinatown meets Dances with Wolves meets Rez style.

Rezolution
2008, 9 minutes, B&W, English
Two people meet in a "Rez" style restaurant as dark secrets are revealed, conflicts arise, and peace is made. This film was screened as a part of the 2008 imagineNATIVE Film + Media Arts Festival.

The Vanishing Trace
2007, 10 minutes, B&W, English
The Vanishing Trace follows seven aboriginal people as they tell their stories of times in their lives where they were stereotyped for being "Indian". This film was screened as a part of the 2007 imagineNATIVE Film + Media Arts Festival. "This piece was made for my son, a five-year old Ojibway who is starting to face many of the issues that I remember growing up with." – Keesic Douglas
Keesic Douglas is an Ojibway artist from the Rama First Nation in central Ontario, Canada. His practice utilizes photography, video and performance focusing on themes of exploring history, identity, representation, and the environment through an Indigenous perspective. His work has been exhibited both across Canada and internationally. His work has been shown in solo exhibitions in Winnipeg, Toronto and recently the Orillia Museum of Art & History as well as group exhibitions in Prague, Mexico, Vancouver, Montreal and New York City. In 2009 his video War Pony screened at the Berlin International Film Festival in Germany. His short film The Vanishing Trace won best short documentary at the imagineNATIVE Film Festival in 2007. In the summer of 2014, his work was exhibited as part of Before and After the Horizon: Anishinaabe Artists of the Great Lakes at the Art Gallery of Ontario. Keesic graduated with a BFA from OCAD in 2008 where he won the medal for photography and completed his MFA at UBC in Vancouver BC in 2010.
---
Advance tickets are available two weeks before each screening at the MacLaren Art Centre, located at 37 Mulcaster Street, Barrie (during gallery hours) or the Uptown Theatre box office (in the evenings an hour before their first screening). HST is included in the ticket price.