Norman – 1:30PM
October 15, 2017 @ 1:30 pm

-

3:08 pm

$10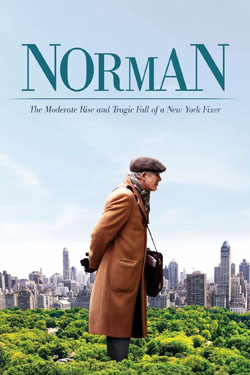 Norman: The Moderate Rise and Tragic Fall of a New York Fixer
Sunday, October 15, 1:30pm
Uptown Theatre, 55 Dunlop St. W., Barrie, screen 1
Written and Directed by: Joseph Cedar
Cast: Richard Gere, Michael Sheen, Steve Buscemi, Dan Stevens, Charlotte Gainsbourg and Lior Ashkenazi
Israel/USA / 2016 / Drama / 14A for some language, English and Hebrew with English subtitles / 118 min.
"Gere, who thus far has been unrecognized by the Academy, is flat-out brilliant and deserves Oscar attention." – Sr. Rose Pacatte, St. Anthony Messenger

"Gere delightfully soft-shoes his way through Norman, surfacing the character's loneliness without unduly exploiting it." – Simon Houpt, Globe and Mail
Norman Oppenheimer (Richard Gere) only wants to matter. Living a lonely life in the shadow of power and money, he uses any angle or connection to put himself in a position of significance. He is an opportunist, just not a very good one. Until he finally bets on the right horse by buying a pair of expensive shoes for Micha Eshel (Lior Ashkenazi), a lowly Israeli politician. When Micha becomes Prime Minister, Norman finds himself in the center of a geopolitical drama beyond anything he could have imagined. Using his small-time skills, Norman tries to solve a growingly complex puzzle with big-time implications. This everyman's journey is filled with the comedy, drama, and tragedy of a man propelled out of anonymity yet ultimately too small to ever be valued.
Awards:
NOMINATED – Best American Independent Film, Cleveland International Film Festival, 2017