Outdoor Screening – JUMANJI: WELCOME TO THE JUNGLE
August 8, 2018 @ 8:30 pm
Free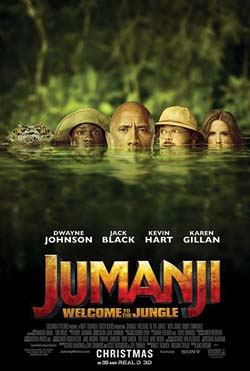 Jumanji: Welcome to the Jungle
Wednesday, August 8, 2018
Meridian Place, Downtown Barrie

Starts at dusk (approx. 8:30pm), weather permitting (rain date is August 9). Admission is Free.
2017, 119 min., PG – frightening scenes, violence, language may offend. (USA)
In a brand new Jumanji adventure, the tables are turned as four teenagers are sucked into Jumanji's world pitted against rhinos, black mambas and an endless variety of jungle traps and puzzles. To survive, they'll play as characters from the game: meek Spencer becomes a stupid and girl crazy jock (Dwayne Johnson); football jock Fridge becomes a tiny Einstein (Kevin Hart); It-girl Bethany becomes a bookworm professor (Jack Black); and unathletic Martha becomes an amazonian warrior (Karen Gillan). To beat the game and return to the Planet Earth with their lives, they'll have to start seeing things in an entirely different way.
Sponsored by: