Short Film Showcase/Awards – 6:30pm
October 19, 2019 @ 6:30 pm
$10
Short Film Showcase
Saturday, October 19, 6:30 pm
Uptown Theatre, 55 Dunlop Street West, Barrie
Tickets: $10 – Click Here to Buy Tickets!
Presenting a highly varied selection of films submitted by regional, national and international filmmakers and curated by our panel of judges. All of the short films screened at the event will be eligible for the People's Choice Award and ballots for voting will be available at the screening. The awards for all categories will be announced directly following the screening at the Filmmakers' Party, which this year will be held at the Sandbox Centre. A very big thank you to all those who submitted their work!
Short Film Line-up
Please note that this program is unrated and may contain coarse language, bullying, adult themes, drug and sexual references.
The Change
Writer/Director: Derby McNulty | 5:01 | High School Category | Canada
Struggling with artistic creativity, Alex tries to change his life.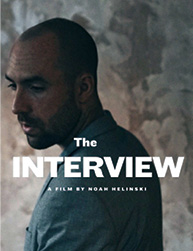 The Interview
Writer/Director: Noah Helinski | 4:54 | Simcoe County Category | Canada
A con-man describes his foolproof plan of using job interviews to steal people's identities.
Life Via Rail
Documentary | Director: Jonny Micay | Producer: Ethan Godel | 8:48 | Open Category | Canada
Life Via Rail tells the story of Jason Shron, a train enthusiast from Canada who abandoned a prestigious phD program to pursue his dream of a career in the model train industry.

Otto & Bradley: Something Fishy
Studio Venti (3rd yr. film group at Sheridan) | Animation Director: Jennifer Yun | 6:27 | Simcoe County Category | Canada
Otto, a young cat barista, is accused of a crime he didn't commit: stealing the tropical fish at Ruffley's Aquarium. With the help of his co-worker Bradley, the two go on an epic chase for the true culprit!
The Literalist
Director: Lori Ann Potts | Writer/Producer: Nicole Bach | 3:49 | Open Category | USA
A professor visits a coffee shop to grade papers but keeps getting distracted by other customers and her own imagination.
One (UNO)
Director/Producer: Javier Marco Rico | Writer: Belén Sánchez-Arévalo | 10:00 | Open Category | Spanish with English subtitles | Spain
Far out at sea, a cell phone floating inside an air-tight bag starts to ring.

Oracle
Director/Writer: Aaron Poole | Producer: Breann Smordin | 8:41 | Open Category | Canada
As home renovations surround a child, the chaos of construction and his parents' preoccupation are internalized, precipitating a fever dream that catapults his consciousness into adult realms of obsession and dread.
Memories
Director: Ian Rayburn | Writer/Producer: Christopher Pirri | 6:55 | Open Category | Canada
A film about the love, loss and acceptance that comes with the death of a loved one.
Our Reality Is Happy
Documentary | Director/Writer/Producer: Aniyah Faisal | 4:22 | High School Category | Urdu with English subtitles | Canada
A story of two child domestic workers finding happiness together, given their everyday reality.
Lobsters
Comedy | Director: Matt Huntley | 4:00 | Open Category | UK
Mark, a lonely man in a caravan park has found his soulmate, his neighbour Tanya. He drifts off into a fantasy about their future together. Everything would be perfect…if it wasn't for Dave.
Tough Love
Writer/Director: Nicholas Dragas | Producer: Denise Bodan | 4:37 | Open Category | Canada
An aspiring writer attempts to create his romantic masterpiece, while struggling to accept a lack of passion in his own life.
Ian, A Moving Story
Director: Abel Goldfarb | Writer: Gastón Gorali | 9:00 | Open Category | Argentina
Ian was born with cerebral palsy. Like all kids, he wants to have friends, but discrimination and bullying keep him from his beloved playground. Ian won't give up easily, accomplishing something that will surprise everyone.
This is a Teenage Love Letter
Director: Tessa Hill | 6:49 | High School Category | Canada
A young woman writes a letter to her past, to love, and to what the future might hold.
Six Stops West
Director/Writer: Noah Gehman | 5:15 |High School Category | Canada
A young woman wants to connect with the world, she just doesn't know how.
Boy Bye
Director/Writer: Mitch Graszat | 10:00 | Simcoe County Category | Canada
A bank robbery gone right… At least that's what she thinks.

Sunday Service
Director/Producer: Neil Shearer | Writer: Nikita Adoni | 8:00 | Simcoe County Category | Canada
A girl who is on a blind first date becomes increasingly uncomfortable when her date's (extended) family begins to show up.
Seeing Sound
Documentary | Director: Alec Jordan | With: Jacob Way-White | 4:31 | Simcoe County Category | Canada
A short documentary about a young musician who is unable to read sheet music and couldn't care less if his socks match or not. The story showcases his skills on various musical instruments including the accordion.
Hearth
Director/Writer/Producer: Max Shoham | 1:10 | High School Category | Canada
Hearth is a sixty second animation that explores the connection between citizens in a village: it attempts to show the power of giving, and how each and every citizen can make a contribution to the greater good. When we all give a bit of ourselves, the entire village benefits.
Awards Presentation / Filmmakers' Party
Saturday, October 19, 9:00 pm
Sandbox Centre, 24 Maple Avenue, 2nd Floor, Barrie
Admission: Free
Immediately following the Short Film Showcase, please join us at the Sandbox Centre for the awards presentation and some celebrating! Always a fun party, this event offers an opportunity to mingle with the filmmakers, to enjoy some excellent music (courtesy of DJ Casey George) and to feast on some fabulous nibblies, this year provided by Cocina Mexicana Restaurant and J'adore Fine Cheese & Chocolate.