The Children Act
October 18, 2018 @ 7:00 pm

-

8:45 pm

$10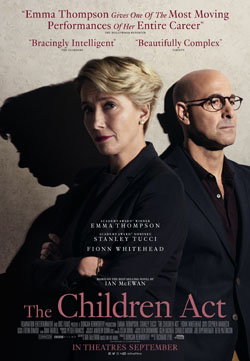 The Children Act
Directed by: Richard Eyre
Cast: Emma Thompson, Stanley Tucci, Fionn Whitehead and Ben Chaplin
Drama | 14A for mature thematics and sexual references | 105 min. | United Kingdom
SCREENING:
Thursday, October 18 – 7:00 pm, Uptown Theatre
Saturday, October 20 – 5:00 pm, Uptown Theatre
"… The Children Act is that rarest of things: an adult drama, written and interpreted with a sensitivity to mature human concerns…" – Peter Debruge, VARIETY
"The two central performances could hardly be better. Thompson works here with remarkable subtlety." – Stephen Farber, HOLLYWOOD REPORTER
Smart, elegant and deeply moving The Children Act stars two-time Academy Award-winner Emma Thompson in a riveting performance as Fiona Maye, an eminent High Court judge in London.
Presiding with wisdom and compassion over ethically complex cases of family law, she has paid a heavy personal price for her workload. Her marriage to American professor Jack (Stanley Tucci) is at a breaking point and it is in this moment of personal crisis, Fiona is asked to rule on the case of Adam (Whitehead), a brilliant boy who is refusing the blood transfusion that will save his life.
Adam is three months from his 18th birthday and still legally a child. Should Fiona force him to live? Fiona visits Adam in the hospital and their meeting has a profound emotional impact on them both, stirring strong new emotions in the boy and long-buried feelings in her.
WON – Andreas Award, Norwegian International Film Festival, 2018
NOMINATED – Film and Literature Award, Film by the Sea International Film Festival, 2018