SHORT FILM SHOWCASE – 6:30PM
October 17, 2015 @ 6:30 pm

-

8:30 pm

$10
2015 SHORT FILM SHOWCASE
Saturday, October 17
Screening: 6:30 pm at Uptown Theatre, 55 Dunlop St. W., Barrie


Awards Presentations/Filmmakers' Party to follow at Roxy Side Room, 50 Dunlop St. W., Barrie
Film Tickets: $10 | Party: Free
Eagerly anticipated year after year, this program presents a highly varied selection of short films submitted by regional, national and international filmmakers. The awards will be announced directly following the screening across the street at the Filmmakers' party in the Roxy Side Room. Admission to the party is free. (cash bar).
Sponsored by:

People's Choice Award is sponsored by:
Filmmakers Party Sponsor:
SHORT FILM LINE UP
---
DELUSION
Directed by Dan Colvin | Comedy/Action | 2:47 | Barrie
A normal high school student goes about his day until a simple event causes him to become more and more paranoid. Is he being followed? What do they want with him? Can he find escape outside the school's walls?
---
A KING'S BETRAYAL
Directed by David A Bornstein | Comedy/Drama | 8:27 | USA | Spanish with English subtitles
The final 24 hours in the life of a Piñata, as told from the Piñata's perspective.
---
ABOUT ME
Directed by Adam Galloway | documentary | 9:04 | Barrie
True love is a hard thing to find, so why limit the odds of meeting someone to chance encounters within your own boundaries? Break free from those barriers and explore singles, miles and miles away, until you find the person for you. About Me chronicles the stories of six unique individuals who discuss their own views on the stigma of this generations increasingly popular phenomenon: Online Dating.
---
THE WORKING DEAD
Directed by Fernando González | Fiction/Thriller | 8 | Spain
When everything is lost, raise is the only hope.
---
THE RIDGE
Directed by Noah Helinski | Drama | 9:59 | Barrie
A girl is living in the woods, cut off from the other side by an unending ridge. Faced with the choice of crossing it and staying put, she must weigh her options and muster the courage to face her true fears.
---
THE BLUE & THE BEYOND
Directed by Youri Dekker | Animation | 9:36 | U.S.
The Blue & the Beyond is the story of a young, imaginative man named Charlie, who is searching to find someone like him in a world where he is different in every way.
---
WHO'S BILL?
Directed by Andy Raynor | Documentary | 9:47 | Barrie
Who's Bill is a documentary film that deals with a first hand look into the world of an elderly woman's mental decline from Alzheimer's, and her transition into the hospital. It displays the effect it has upon her husband and how he deals with seeing the woman he has been married to for 50 years slowly forget her family, herself, and him.
---
BAM
Directed by Dennis Overeem | Comedy | 5:06 | Netherlands | Dutch with English subtitles
Mariska is a big older girl and is very Lonely. She lives in a small boring town in The Netherlands and works in a supermarket. Everyday she eats her lunch alone in the parking lot. She has no friends and no love in her life. She tries to find a man through social media but until today she is not very lucky. No one likes her selfies nor do they contact her. So she likes her own photos.
---
LOCKED OUT
Directed by Mitch Graszat & Jamie Rogers | 9:58 | Barrie
Greg Mardukus finds himself locked out of his home. He's going to have to make do with nature for a while, and for him, that is not good news.
---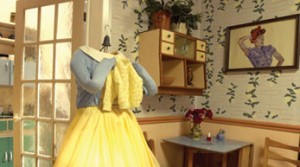 MEND AND MAKE DO
Directed by Bexie Bush | Animation | 8 | United Kingdom
Cup of tea? Come and take a seat in Lyn's cosy front room, hear her story of love during wartime and watch as her belongings come alive with the hope, fear and humour of one spirited lady. Equal parts documentary, animation and magic, "Mend and Make Do" features the original voice of Lyn Schofield of Southport, Merseyside, a woman with a lifetime of tales to tell.
---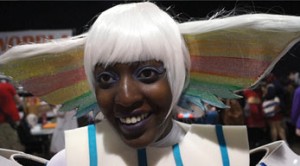 ANIME NORTH
Directed by Peter Harmathy | Documentary | 9:58 | Barrie
This documentary is about the fans: quirky, eccentric, obsessed and interesting, who attend the enormously popular Anime North Convention every year in Toronto.
---
BOB
Directed by Marc Roessler | Comedy | 4:40 | Germany | German with English subtitles
Bob is an artist in great demand. Despite this, he often feels misunderstood, as an air of gloom surrounds the unveiling of his art, and the funeral procession is never too far behind. An attempt at a filmic portrait.
---
THE HIT
Directed by Jonny Micay | Comedy | 7:26 | Toronto
In what he believes to be a near death experience, Phillip sees a life flash before his eyes. The only thing is, it wasn't his.
---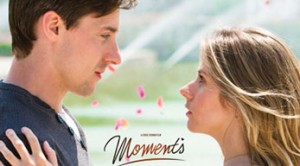 MOMENTS
Directed by Chris Cronin | Musical/Romance | 5:45 | United Kingdom
Moments is the story of a young man who always seems to just miss out on those special moments in life. But a chance encounter with a beautiful and mysterious woman promises to change all that forever. With only his determination, a flurry of confetti and an irrepressible love of dance, he sets out to win her heart.
---
BUDDIES
Directed by Wendel Brooks | Comedy | 2:46 | Owen Sound
A story about two bottles and their time together.
---
TWINS
Directed by Brittney Hockley | Comedy | 7:32 | Creemore
A mockumentary that presents the positive and negative aspects of being a twin.
---
A very big thank you to all those who submitted their work!