3rd Thursday is another exciting addition to our monthly offering so that we can bring you more screening opportunities and also have a time slot where we can add a variety of genres from more challenging, thought-provoking features to documentaries and there may even be some lighthearted selections in the mix. We guarantee we will showcase a wide variety of material from Canada and around the world.
Film tickets: $10 for Adults, $8 for Seniors/Students
Advance tickets are available online or at the Uptown Theatre the day of screening. The box office opens one hour before showtime. HST is included in the ticket price.
Notes for online ticket sales delivery:
Select "Will Call" if you wish to get your tickets at box office on day of screening; or "e-ticket" to receive a digital file of your ticket (pdf) which can then be printed at home or scanned off your smart phone.
---
January Screening: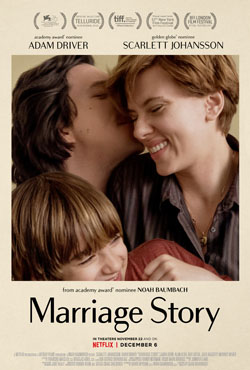 Marriage Story

Screening: Thursday, January 16, 2020 – 4pm, 7pm
Uptown Theatre, 55 Dunlop St. W., Barrie
Order Tickets Now
Written and Directed by: Noah Baumbach
Cast: Adam Driver, Scarlett Johansson, Laura Dern and Wallace Shawn
Drama, 14A for coarse language and sexual references throughout, 136 minutes (USA/UK)
"One of the most realistic and genuinely told love stories I have ever seen. Adam Driver, Scarlett Johansson & Laura Dern are perfect." – Lauren Veneziani, WBAL-TV
"Johansson and Driver are remarkably, heartbreakingly good in every scene; showing their characters' journeys to an unflinching camera, letting the gap between them get wider yet unable, for their son's sake, to completely walk away." – Moira MacDonald, Seattle Times
"It's a triumph, a mix of pleasure and pain that cuts so deep it leaves a scar. It hurts, but it hurts so good." – Adam Graham, Detroit News
New York theatre director Charlie (Adam Driver) and actress Nicole (Scarlett Johansson) struggle through a gruelling, coast-to-coast divorce that pushes them to their personal and creative extremes. For years, Nicole, who was once a successful Hollywood actress, has wanted to return to Los Angeles, but Charlie has no interest in moving. When she relocates with their eight-year-old son, Henry (Azhy Robertson), things get ugly between the two spouses. Charlie has to fly back and forth to see Henry, while their legal teams drive wedges between the two, who at first, began their separation amicably. (synopsis from tribute.ca)
Awards:
Nominee, Best Actress in a Drama (Johansson)/Best Actor in a Drama (Driver)/Best Supporting Actress in a Motion Picture (Dern) /Best Screenplay/Best Original Score/Best Motion Picture-Drama, Golden Globes, USA, 2020
Nominee, Best Picture/Best Supporting Actress/Best Director/Best Screenwriter/Readers'Choice, AARP Movies for Grownups Awards, 2020
Winner, Best Actor (Adam Driver)/Nominee Top Ten Films (3rd Place) Atlanta Film Critics Circle, 2019
Nominee/Best International Independent Film, British Independent Film Awards, 2019
Nominee, Best Picture/Best Actor/Best Actress/Best Supporting Actress/Best Acting Ensemble/Best Director, Broadcast Film Critics Association Awards, 2020
Winner, Robert Altman Award, Film Independent Spirit Awards, 2020
Gotham Awards, 2019
---
Program is Sponsored by: